Prologue - The very beginning in karting and automobile slalom
In 1996 I came in touch with motorsport for the first time at the age of 5. My father, who at that time often spent free time on the go-kart track with colleagues, took me to Mondercange in Luxembourg for the first time. My legs were miles away from reaching the pedals of the vehicle, but from that moment the dream was born to be able to move such a thing one day. About 2 years later – my legs finally long enough – I sat on the go-kart track at Frankfurt-Hahn Airport for the first time in a rental kart, which from then on was to be repeated every time it went "to the track". Back then, karting was just a leisure hobby and even though Germany was already enthusiastic about Formula 1 with Michael Schumacher at that time, nobody thought that this hobby might eventually play a bigger role in my life one day.
I competed in the first really timed competition in 2003 in a kart slalom, and in 2006 I switched to the automobile slalom as part of the ADAC Saarland youth development program. At that time, the Petto family was primarily responsible for this – the paths would cross again a number of years later, but more on that later.
Drawing circles around pylons was great fun for only a short time. The desire for "real" motorsport existed early on through the annual contact with the World Rally Championship, the liaison stage of which passed my parents' house and so the change to rallying was only a logical consequence.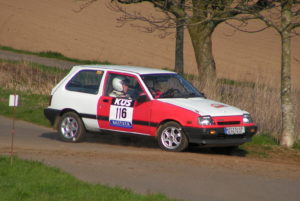 The start was bumpy: the painter had canceled at short notice the week before, so the car shone in freshly sanded white, the passenger door and fenders in red. To match the patchwork design, the organizer also gave us number stickers from two different digit sizes. But of course I didn't mind and so I started my first rally on April 7, 2007 at Osterrallye Zerf as Sebastian Enzweiler's co-driver. In the third special stage, the event came to an end for us after 700 meters – the clutch was defective. Nevertheless, on that day I knew: THAT is what I want!

In the first few years I didn't really care where, with whom and – above all – in which car. In the first 7 years of my career I started with 11 drivers in 13 different cars at 37 events
I was particularly proud in 2012 when I was able to call myself a permanent co-pilot at Daniel Franke's side for the first time. Together with him, I competed in the entire Saarland Rally Championship as well as the local ADAC Rally Masters races for two years. The first "real" accident happened to us, in 2013 at the Warndt Rally, which made me question my sport for the first time – not for very long, but that's also part of the game.
There was also another attempt from 2013 to get behind the wheel again. As part of the RCN GLP, I first started together with Bohrer Motorsport on their Opel Corsa B, then later in the year I bought my own BMW E36 323 Compact. The car built according to Group G regulations was then converted into a Group F vehicle at the turn of the year 13/14 and used several times on the Nürburgring Nordschleife in 2014. After the 2014 season, however, I sold the BMW again to concentrate my sporting activities on rallying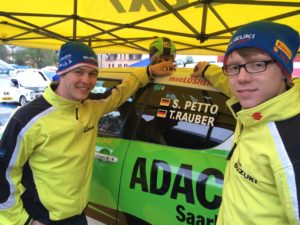 With a few exceptions, my entire career had taken place in Saarland and the neighboring Rhineland-Palatinate. That should finally change in 2014. Together with Felix Sterk, I started in the Schotter Cup, which mainly consists of events in East Germany.
In addition, my long-time friend Stefan Petto and I started for Suzuki Germany in the Erzgebirge Rally. It was actually supposed to be a one-time excursion into the world of the ADAC Rally Masters, but straight away we got a podium in our division. For this reason, Suzuki gradually expanded its commitment to two more events and then to the entire season. After tough battles with main competitor Toni Mosel and his co-driver René Meier, we were able to crown the season finale, the 3-city rally, and thus also the championship title in our division – looking back a real springboard for my further career.
From then on, one drive concept dominated above all else: all-wheel drive. From then on, one personal highlight followed the next and I continued to professionalize my way of working. That was noticed and since then the first drivers have started to contact me specifically for their projects and to take me on board – projects that I would never have dreamed of at the beginning of my career.
By participating in the German round of the World Rallye Championship, I was able to realize a childhood dream twice in 2015 and 2016, with Peter Scharmach I was able to complete my first events abroad and, moreover, in an R5 vehicle. From 2017, thanks to the experience I had gained so far, I was able to systematically cooperate with professional racing teams such as Gassner Motorsport and repeatedly support various of their customers in national and international assignments. These collaborations have continued to this day.
Since 2020 I have been driving the Skoda Fabia S2000 primarily as Thomas Lorenz's regular co-driver. In addition, I accompany various projects of other drivers around the world and try to pass on the experience I have gained in my career to the next generation of copilots.